Invisalign – Before & Afters
Here are a selection of some of our proudest Invisalign before and afters at Dental Centre Bournemouth.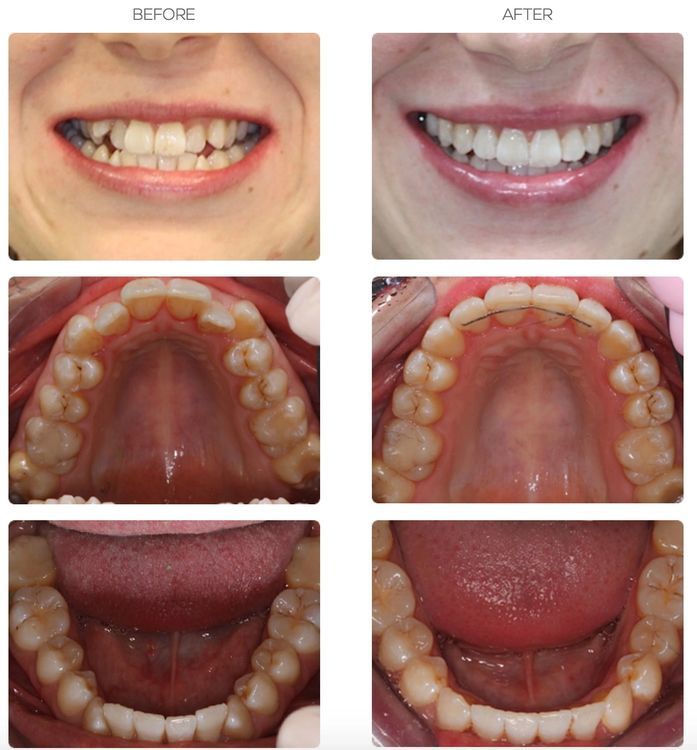 What a difference a wider smile makes!
This patient had loads of bone to move the teeth out sideways, so thats what we did! An Invisalign journey in Ringwood.
Total orthodontics treatment time of 10 months.
Crossover Teeth Treated with Invisalign
Treating crossed over teeth with Invisalign in Ringwood.
Invisalign Treating Crowding & Deep Bite
Crowding and deep bite treated using Invisalign in Ringwood. Orthodontic treatment time only 7 months.
Upper Only Invisalign
Ever thought of just treating the upper or lower teeth? This patient wanted to treat just her upper teeth (we left the deep bite as it was and didn't treat the lower teeth at all).
Total Orthodontics treatment time of just 7 months
Invisalign Used On Sticking Out Teeth
Treatment time 10 months – Invisalign was used to tuck the teeth in and close the gaps – what a difference it made to this patients profile.
Gap Closure with Invisalign
Closing gaps and cosmetic bonding for peg shaped lateral incisors (and Zoom teeth whitening). Treatment time using invisalign only 7 months!
Childrens Invisalign Treatment
A child refused NHS orthodontics – opted for Invisalign and treated with this form of orthodontics in just 7 months!
Amazing Results with Invisalign
Elegant Orthodontic alignment using Invisalign in Bournemouth.
Invisalign Used For Severe Crowding!
Severe crowding treated using Invisalign in ringwood – just 11 months
Invisalign Gap Closure & Whitening
Gap closure and teeth whitening using Invisalign – 7 months total orthodontic treatment time.
Invisalign in Bournemouth
Invisalign and cosmetic dentistry – total treatment time 7 months.